Hello my lovely friends 🙂
I know, it's already July, but I realized that I had never posted my book haul from this month! *The Horror*, so although its a tad overdue, better late than never right? Because when it comes to buying books, I have trouble with choosing which one to invest in, I've been going to my library lately where there is a free book section. This is possible due to the donation of many locals. What I love about this process, is being able to discover treasures that only come through chance.
All these books are mainly novels that had a promising cover summary. Lately, I've been interested in fantasy, and YA novels, but I've decided that it's important to continue to read these books as well. I've found that most of the books I picked were related to family and immigration. I'm so glad that I was able to discover these amazing books in great condition, and for free!!
---
While I Was Gone
by Sue Miller
Synopsis from goodreads:
Jo Becker has every reason to be content. She has three dynamic daughters, a loving marriage, and a rewarding career. But she feels a sense of unease. Then an old housemate reappears, sending Jo back to a distant past when she lived in a communal house in Cambridge, Massachusetts. Drawn deeper into her memories of that fateful summer in 1968, Jo begins to obsess about the person she once was. As she is pulled farther from her present life, her husband, and her world, Jo struggles against becoming enveloped by her past and its dark secret.
For me, this book had the vibes of "The Awakening" by Kate Chopin. I truly loved that book and found in liberating, especially how the past often helps someone discover their current identity. Also, who doesn't love a book with a big secret?
---
In the Time of Butterflies
by Julia Alvarez
Synopsis from goodreads:
 Set during the waning days of the Trujillo dictatorship in the Dominican Republic in 1960, this extraordinary novel tells the story the Mirabal sisters, three young wives and mothers who are assassinated after visiting their jailed husbands.
STRONG WOMEN!! Yesssss, Julia Alvarez is first off an amazing author who deals with many topics that I am interested in such as first generation families. I was drawn to this book because of the promise of a story regarding women who had to undergo great tribulations.
---
Three Junes
By Julia Glass
Synopsis from goodreads:
A luminous first novel, set in Greece, Scotland, Greenwich Village, and Long Island, that traces the members of a Scottish family as they confront the joys and longings, fulfillments and betrayals of love in all its guises.

In June of 1989 Paul McLeod, a newspaper publisher and recent widower, travels to Greece, where he falls for a young American artist and reflects on the complicated truth about his marriage.

Six years later, again in June, Paul's death draws his three grown sons and their families back to their ancestral home. Fenno, the eldest, a wry, introspective gay man, narrates the events of this unforeseen reunion. Far from his straitlaced expatriate life as a bookseller in Greenwich Village, Fenno is stunned by a series of revelations that threaten his carefully crafted defenses.

Four years farther on, in yet another June, a chance meeting on the Long Island shore brings Fenno together with Fern Olitsky, the artist who once captivated his father. Now pregnant, Fern must weigh her guilt about the past against her wishes for the future and decide what family means to her.
Once again, a family topic, so far all these books revolve around family, and the discovering of where they belong within their family.
---
 A Passionate Man
Joanna Trollope
Synopsis from goodreads:
The Logans were an enchanting and admirable couple. Archie had snatched Liza from her own engagement party to someone else, wooed her, swept her off to his father in Scotland, and finally married her. Now bedded firmly into country life-three children, Archie the village doctor, Liza a teacher, everything comfortable, funny, affectionate,—they awaited the arrival of Archie's father, the brilliant Sir Andrew Logan, a widower for over thirty years.

When his city-clean Rover stopped in the drive, Sir Andrew was not alone. Beside him was a golden lady in caramel suede, a warm, witty, desirable widow whom everyone—except Archie—adored at once. Archie saw his father's mistress as the worm in the bud of his perfect life—a life that was to be wrenched apart before he and Liza could re-create their world
The fact that someone's able to seduce a person from their own engagement party is first off pretty amazing, and very rude. I'd love to see how this lady disrupts their family life, and the way this problem will bring the family closer together.
---
Time Travelers Wife
Audrey Niffenegger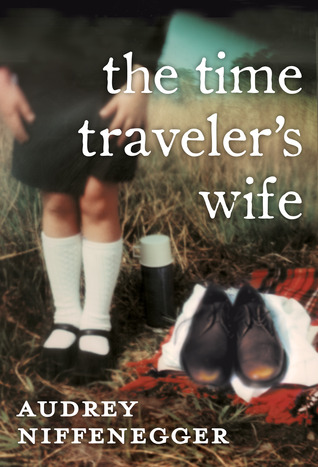 Synopsis from goodreads:
Audrey Niffenegger's dazzling debut is the story of Clare, a beautiful, strong-minded art student, and Henry, an adventuresome librarian, who have known each other since Clare was six and Henry was thirty-six, and were married when Clare was twenty-three and Henry thirty-one. Impossible but true, because Henry is one of the first people diagnosed with Chrono-Displacement Disorder: his genetic clock randomly resets and he finds himself misplaced in time, pulled to moments of emotional gravity from his life, past and future. His disappearances are spontaneous and unpredictable, and lend a spectacular urgency to Clare and Henry's unconventional love story. That their attempt to live normal lives together is threatened by something they can neither prevent nor control makes their story intensely moving and entirely unforgettable.
This is a book I am currently reading.
---
The Living
Annie Dillard
Synopsis from goodreads:
Ninety miles north of Seattle on the Washington coast lies Bellingham Bay, where a rough settlement founded in the 1850s would become the town of Whatcom. Here, the Lummi and Nooksack Indian people fish and farm, hermits pay their debts in sockeye salmon, and miners track gold-bearing streams.

Here, too, is the intimate, murderous tale of three men. Clare Fishburn believes that greatness lies in store for him. John Ireland Sharp, an educated orphan, abandons hope when he sees socialists expel the Chinese workers from the region. Beal Obenchain, who lives in a cedar stump, threatens Clare Fishburn's life.

A killer lashes a Chinese worker to a wharf piling at low tide. Settlers pour in to catch the boom the railroads bring. People give birth, drown, burn, inherit rich legacies, and commit expensive larcenies. All this takes place a hundred years ago, when these vital, ruddy men and women were "the living."
I love how this promises the stories of various people that are clearly so different from each other. I want to see the character development of each within this novel.
---
What are some books you have recently purchased? How do you normally plan what books to buy? Let me know in the comments 🙂