Hello my lovely friends 🙂
It's time for my August TBR! Although this month will be filled with moving into college, frantically buying dorm essentials (what's the difference between comforters and duvets anyways?), and trying to get my life together as always. Thus, I will only be putting four books on this list, although my goal for this month is seven.
---
:: book: Half of A Yellow Sun :: author: Chimamanda Ngozi Adichie :: published: 2015 :: genre: historical fiction:: goodreads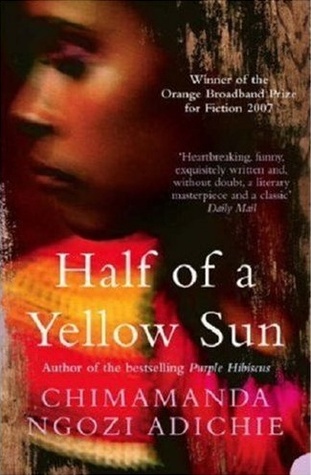 Synopsis from goodreads:
With effortless grace, celebrated author Chimamanda Ngozi Adichie illuminates a seminal moment in modern African history: Biafra's impassioned struggle to establish an independent republic in southeastern Nigeria during the late 1960s. We experience this tumultuous decade alongside five unforgettable characters: Ugwu, a thirteen-year-old houseboy who works for Odenigbo, a university professor full of revolutionary zeal; Olanna, the professor's beautiful young mistress who has abandoned her life in Lagos for a dusty town and her lover's charm; and Richard, a shy young Englishman infatuated with Olanna's willful twin sister Kainene. Half of a Yellow Sun is a tremendously evocative novel of the promise, hope, and disappointment of the Biafran war.
This book was featured on Naz @ Read Diverse Books in her "Black Women As Heroes And Role Models – A Reading List" post. I loved this post because it brings awareness to the wide array of books we must read in order to open our minds and expand our wisdom. The synopsis definitely sucked me in, and I can't wait to get my hands on this book! Thanks Naz 🙂
---
:: book: Written in the Stars :: author: Aisha Saeed:: published: 2015 :: genre: novel:: goodreads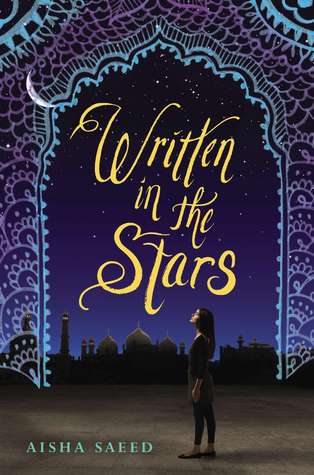 Synopsis from goodreads:
This heart-wrenching novel explores what it is like to be thrust into an unwanted marriage. Has Naila's fate been written in the stars? Or can she still make her own destiny?

Naila's conservative immigrant parents have always said the same thing: She may choose what to study, how to wear her hair, and what to be when she grows up—but they will choose her husband. Following their cultural tradition, they will plan an arranged marriage for her. And until then, dating—even friendship with a boy—is forbidden. When Naila breaks their rule by falling in love with Saif, her parents are livid. Convinced she has forgotten who she truly is, they travel to Pakistan to visit relatives and explore their roots. But Naila's vacation turns into a nightmare when she learns that plans have changed—her parents have found her a husband and they want her to marry him, now! Despite her greatest efforts, Naila is aghast to find herself cut off from everything and everyone she once knew. Her only hope of escape is Saif . . . if he can find her before it's too late.
First off, the cover of this book is beautiful. Second off, this book explores the Pakistanian culture and the lives of first generation citizens. The clashing cultures make for an interesting read as one girl battles to find her identity. Plus who doesn't love a love story that surpasses all constructs of love?
---
:: book: A Passionate Man :: author: Joanna Trollope :: published: 2000 :: genre: novel:: goodreads
Synopsis from goodreads:
The Logans were an enchanting and admirable couple. Archie had snatched Liza from her own engagement party to someone else, wooed her, swept her off to his father in Scotland, and finally married her. Now bedded firmly into country life-three children, Archie the village doctor, Liza a teacher, everything comfortable, funny, affectionate,—they awaited the arrival of Archie's father, the brilliant Sir Andrew Logan, a widower for over thirty years.

When his city-clean Rover stopped in the drive, Sir Andrew was not alone. Beside him was a golden lady in caramel suede, a warm, witty, desirable widow whom everyone—except Archie—adored at once. Archie saw his father's mistress as the worm in the bud of his perfect life—a life that was to be wrenched apart before he and Liza could re-create their world.
This is a book I grabbed during my Free Book Haul, and have been itching to read. I really love novels that revolve around character development, and show the interactions and relationships between characters. Although maybe not as fast paced as other books, I think this will be a fun read before bed.
---
:: book: A Thousand Pieces of You :: author: Claudia Grey :: published: 2014 :: genre: novel:: goodreads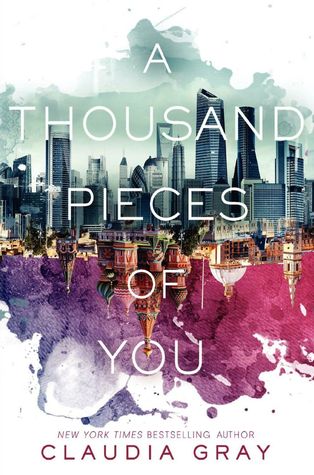 Synopsis from goodreads:
Cloud Atlas meets Orphan Black in this epic dimension-bending trilogy by New York Times bestselling author Claudia Gray about a girl who must chase her father's killer through multiple dimensions.

Marguerite Caine's physicist parents are known for their groundbreaking achievements. Their most astonishing invention, called the Firebird, allows users to jump into multiple universes—and promises to revolutionize science forever. But then Marguerite's father is murdered, and the killer—her parent's handsome, enigmatic assistant Paul— escapes into another dimension before the law can touch him.

Marguerite refuses to let the man who destroyed her family go free. So she races after Paul through different universes, always leaping into another version of herself. But she also meets alternate versions of the people she knows—including Paul, whose life entangles with hers in increasingly familiar ways. Before long she begins to question Paul's guilt—as well as her own heart. And soon she discovers the truth behind her father's death is far more sinister than she expected.

A Thousand Pieces of You explores an amazingly intricate multi-universe where fate is unavoidable, the truth elusive, and love the greatest mystery of all.
This cover though! I know you're not supposed to judge a book by it's cover, but honestly, I can't stop staring. I've really been craving for a good revenge story, so naturally A Thousand Pieces of You seemed like a good pick. Also, multiple dimensions? New versions of oneself? More secrets? Yes please!
---
So, here is my short TBR for this month! What are some books you can't wait to read? What's your goal number of books for this month? Let me know in the comments below 🙂